Floating is a wonderful way to reach deep relaxation, ease pain, and tap your full creative potential. We're excited about the possibilities and can't wait to bring floating back to Boston!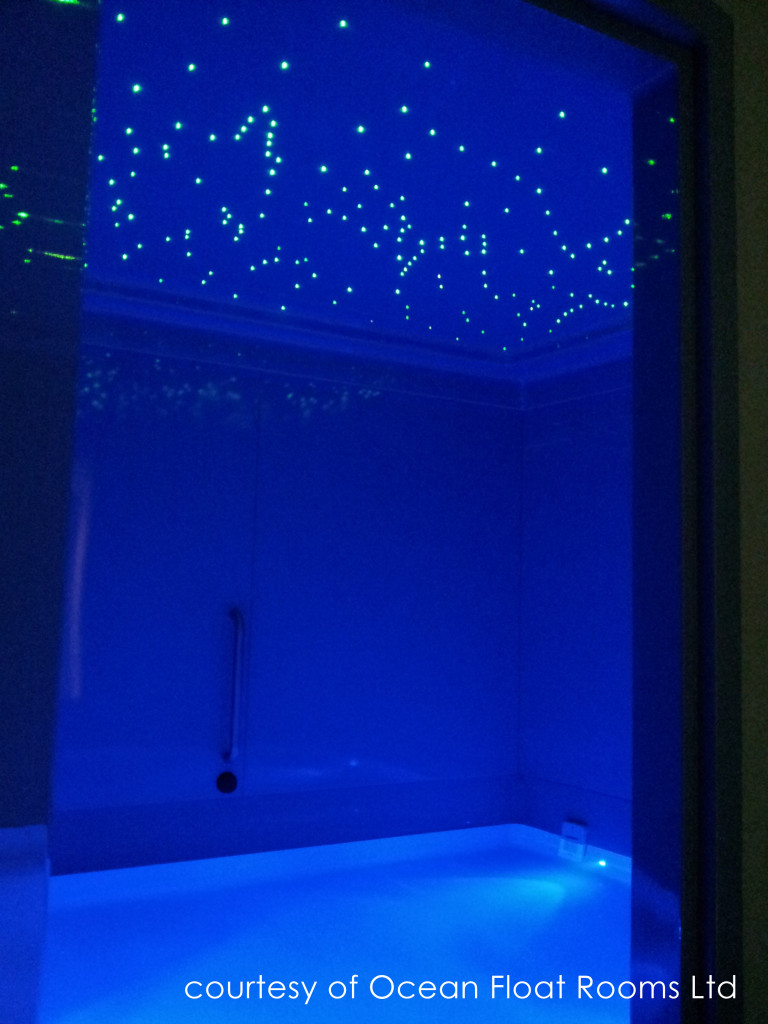 Other names for float tanks include isolation tanks, sensory deprivation tanks, and R.E.S.T. – which stands for Restricted Environmental Stimulation Therapy (or Technique). They all involve floating in ten to twelve inches of warm water semi-saturated with Epsom salt — 800 lbs to a tank! The Epsom salts increase the density of the water to greater than the Dead Sea, allowing you to float effortlessly — easily keeping your nose and mouth above the waterline.
We hope to bring a commercial float center back to Boston area, after too long an absence. But many things need to occur first — we're still in the planning stages.
About Us
Introduction to Floating
"Float Nation", teaser trailer for a 2013 documentary about various float experiences. "Sixty minutes of relaxation, pain free. And for someone who lives with pain every single day, every minute – that's priceless."
"Seeking serenity? Flotation therapy offers an inexpensive way to achieve it," Washington Post, Sep 23rd, 2013.  "I didn't just feel relaxed, I felt like the giant baby at the end of Stanley Kubrick's '2001: A Space Odyssey'."
"Embracing the Void: the profound, ecstatic state of nothingness I achieved while floating naked in a sensory deprivation tank", Slate, May 13th 2013. "I emerged in a profound daze. I spoke slowly and quietly, like a smooth-jazz DJ, to the person at the spa desk who inquired how my session had gone. I felt more rested than if I'd slept for 16 hours on a pile of tranquilized chinchillas."
"Postcards From the Edge of Consciousness", Nautilus, Aug 14th 2014. "The only way I can describe it is that floating feels like being meditated. As if the tank does it for you, from the outside in."
"After the post about sensory deprivation tanks, I thought I'd let you guys in on my experiences with them," photo essay by imgur user iLikeCoffeeAndKittens, Feb 7th, 2014.  "The more you go, the easier it gets to get to that state of meditation that you will hallucinate more and sooner. But don't expect anything crazy. You'll probably see weird colors. I personally hear a lot of different tones and muffled voices. It's actually pretty cool."
"Time Out: The Rise of Sensory Deprivation Tanks", The Atlantic, Oct 12, 2012. "To experience complete sensory deprivation is, ideally, to delve into one's psyche. It forces contemplation of facets of life, that — similar to less 'heavy' types of meditation — is meant to leave us healthier and happier."
"The Nothing Eaters", Portland Mercury, Feb 2nd, 2012.  "Additionally, I begin to write creatively for the first time in months, but with an uninhibited ease that I haven't experienced in almost five years. In short, I was astounded by the changes I saw in myself."
Why nothing really matters (my trip inside an isolation tank). "The way you phys­i­cally feel after­wards is like get­ting a mas­sage, doing a full work­out, and get­ting 8 hours of sleep all at once… Until you try it, you won't under­stand what I'm talk­ing about."  Posted March 28th, 2012.
"In the Tank", The Nation, Oct 14, 2013.  "Some of sensory deprivation's sublime attraction seems to lie in the way it fortifies the floater against the perceived harm of twenty-first-century culture."
Isolation Tanks, Wikipedia.
The Float Experience.  A nice primer from Oasis, a manufacturer of classic tanks.
Science & Medicine
"Much Needed REST: The world of sensory deprivation tanks", Psychology Tomorrow, Aug 2014.  "Lilly, Suedfeld, Borrie, and other researchers in the field published dozens of studies that concluded REST could be beneficial in countless ways: improving memory, increasing hand-eye coordination, even reducing spasticity in sufferers of cerebral palsy."
Fibromyalgia Flotation Project. Have you been diagnosed with fibromyalgia? Consider participating in the non-floating control group while waiting for our center to open.
Rod Borrie, The Fibromyalgia Flotation Project, 31:35. An investigator talks about the disease, his research, and the project results.  "Without exception, the immediate intervention effects (average pre-post change) are highly significant [improvements] for all variables."  Slide set.
David Manfield, Post-traumatic Stress Disorder (PTSD), 18:38.  There are no published controlled studies on flotation REST and PTSD specifically.  PTSD is a stress disorder notable for elevations in cortisol, ACTH and epinephrine; research on flotation clearly shows it can reduce all of these. Slide set.
"Sensory Deprivation Boosts Musicians' Skill Level", Pacific Standard, May 16, 2011. Half of a university-level jazz improvization class does a month of floating, and has significantly greater performance improvement.
"Meditation's positive residual effects", Harvard Gazette, Nov 13, 2012. "These results are consistent with the overarching hypothesis that meditation may result in enduring, beneficial changes in brain function, especially in the area of emotional processing."
"Mid-life stress 'precedes dementia'", BBC News, Sep 30, 2013. "In a study of 800 Swedish women, those who had to cope with events such as divorce or bereavement were more likely to get Alzheimer's decades later. … The study authors say stress hormones may be to blame, triggering harmful alterations in the brain."
"How does meditation change the brain?", Scientific American, Oct 30, 2013. "Although areas of the brain responsible for sustaining attention usually shrink as we age, meditation counteracts this decay."  The relationship between meditation and REST is virtually unstudied, but anecdotally many people expect there to be similarities.
"Like Valium and Oxycontin, without the Side Effects," Scientific American, Oct 14, 2014.  "A Buddhist monk—this one with a doctorate in cell biology—has teamed with two prominent neuroscientists to present the latest findings on what meditation does to the brain and how those changes to neural circuits have some of the trappings of what might be labeled a perfect drug—Prozac-like muting of depression symptoms or prophylaxis against PTSD (just two on the list)."  
"The Emergence of Contemplative Neuroscience," Richard Davidson, Meng Wu Lecture, Oct 29, 2012. (video, 1h36m).  Compassion meditation vs mindfulness practices, history of research, impacts on brain activity and gene expression, and investigations with children.
"Lupus and Flotation Therapy," What is Flotation? Oct 3, 2014.  There's no published research, but the benefits of floating match well with the symptoms and pain of lupus.
Spiritual Development
"FLOAT TANKS: The Lilly Path to Freedom (Part I ~ Experience, Part II ~ History, Part III ~ Benefits)", Hyperborean Health, Oct 23, 2014.  "Learning how sit still and meditate has ironically been the biggest challenge of all. It turns out that besides the ambitious goal of spiritual enlightenment, meditation is simply good for our over active, reason-stuffed minds. My own personal best breakthrough as an adult came after a ten-day silent Vipassana retreat. But that was back in 2011. I needed a practice that I could do without becoming a temporary acetic or going nuts. Something gentle that I could fit into my daily life."
"We had a Zen master who visited my lab once, and he asked to go in the tank for an hour. Most of his life he had meditated every day for four or five hours or more. And he thought the depth of meditation he reached in the tank was on par with a level he reached maybe once a year in his normal meditation environment—which was not exactly the middle of Times Square. He was amazed." – Peter Suedfeld
Joe Rogan, The Sensory Deprivation Tank, 5:44. "The sensory deprivation chamber is the most important tool I've ever used for developing my mind, for thinking, for evolving."
"Silent Spectrum", Mélanie Bérubé, 7:15.  A short documentary about the spiritual side of floating.
Darren Weissman, Sensory Deprivation Tanks, Part 1, 5:29.  A holistic practitioner describes the experience of floating and talks about some of the benefits he sees.  Woo factor 8 out of 10.
Darren Weissman, Improving Sports Performance and Learning, Part 2, 5:42.  A holistic practitioner talks about the value of visualization in float tanks.
David Conneely, Programming and Metaprogramming, 40:54. What the mind believes to be real can trap you. Flotation can give access to reprogramming the subconscious. Conneely discusses the techniques of John Lilly. Slide set.
"Why Yogis Should Try Isolation Tanks", My Yoga Online, Sep 16, 2013. "Pratyahara [withdrawal of the senses] is considered by BKS Iyengar to be the 'hinge' or pivotal point in the yogic journey, because it is the step where we move from our behaviors and action in the outside world, to diving deep within in order to 'gain knowledge of the self'."
"Floating into Hoop Flow", Oct 11, 2013.  Katelyn Selanders lost touch with her art, and got it back in the tank.  "As she continued to float, the feeling of Hoop Joy swept over her, that magic energy you feel when the hoop beats rhythmically across your core, when you shoot it off your body up into the sky like a shooting star, and when you break the hoop against the beat and don't know or care what your next move is going to be. Without even being aware of it, she had floated back into her flow."
"Float Tanks: Gateway to Infinite Being," Jul 28, 2014.  "Being freed from the gravitas of gravity and allowing the nervous system to switch from the sympathetic to the parasympathetic state, the body can now focus on regeneration … No matter what your particular physical or emotional or mental issue is, this state is the one you want to be in to begin to heal it. And, in my opinion, floating is the quickest and safest way to get you there."
News Articles
"An Isolation Tank in Winter is the Best Place to Feel Happy and Alone," Gawker, Mar 6, 2014.  The writer has a lot of fear and uncertainty before getting in the tank, but it wins her over.  "Waiting for the subway, I wasn't impatient like I normally am. On the train, I wasn't angry and stressed. I didn't listen to music to distract myself. My head maintained a soft buzz. I had a doctor's appointment, so I got off at Sixth Avenue and 14th Street and walked west at dusk. These kinds of nights are rare but there was a pleasant glow in the sky, the kind that manifests itself on Instagram in photos of our glorious skyline, reds and yellows and sharp blue."
"Think Inside The Box: Float therapy," Qweekend Magazine, Oct 19, 2014. "A former army infantryman, Harding was medically discharged from service in 2011 after developing Post-Traumatic Stress Disorder (PTSD) … He developed full-body twitches, was diagnosed with conversion disorder and sent home early. The two years that followed were a mess of prescription medications and alcohol abuse. …  Harding discovered floating in March and in his first week completed three sessions. "The changes I've seen in him after floating are incredible," says his partner."
"Floatation Tank," OH baby, Oct 6, 2014. "The weightless feeling is totally amazing. I'm 33 weeks pregnant so even sleeping isn't relaxing at times,  to be able to relax and not have any pressure anywhere, especially my hips, is wonderful."
"My Dive Into Sensory Deprivation's Naked, Wet Quest for Enlightenment," Gizmodo, Sep 18, 2014.  "I was refreshed and somehow both clear-headed and spacey. Even though I'd spent what felt like forever in the tank thinking I was immune to tranquil meditation, I felt incredibly tranquil."
"Sensory deprivation tank leaves you feeling fulfilled," Vancouver Sun, Mar 10, 2014.  Opening of West Coast Float in Whistler, BC.  "Thing is, one of the senses you quickly lose track of when floating is time, but as I discovered that is precisely the point of flotation therapy."
"Float Your Cares Away in a Sense Deprivation Tank", MyNorthwest, Feb 11, 2014. "I've meditated since I was about 12 years old and throughout my life I've experimented with Buddhist breathing techniques to transcendental meditation and I found that floating is a shortcut to that. It's a cheat to mediation because you don't have to do anything."
"Can a Sensory Deprivation Chamber Relieve Stress?" Oprah Magazine, Feb 10, 2014. "My chillax buzz (and amazing sleep) lasts nearly a week. Tight deadlines at work don't feel paralyzing; I don't huff over subway delays on my commute."
"Floating for recovery and athletic performance," Cocoon Floatation, Jan 30, 2014.  In 1994, pro cyclist Brett Dennis smashed his femur through his hip socket, and was told he might not walk again.  He used flotation as a key part of his remarkably rapid recovery programme.
"What I found in the sensory-deprivation chamber", Baltimore Sun, Jan 11, 2014.  Opening of Be Free Floating.  "But the most fascinating aspect of using the tank is experiencing how the brain amuses itself when there is little or nothing to see, hear and feel."
"Sensory deprivation tank good for body and mind, says owner of new Auburn business", Auburn Reporter, Jan 2, 2014.  Opening of U-Float in Auburn, WA. "At first it is not a comfortable thing. Twenty minutes in, the mind, accustomed to its daily gobsmacking of sensory input, starts to nicker and paw."
"WORD OF MOUTH: Let stress drift away", Newcastle Herald (Australia), Nov 15, 2013. "My joints seem to sigh with relief as the tepid salty water takes the full weight of my body, which can now relax into its most natural form.  Gravity doesn't live here any more."
"Flotation tanks catch on for fighting stress, pain", Tennessean, Nov 13, 2013.  The opening of Nashville Float and Massage.
"The Modern-Day Float Tank", Men's Journal, Nov 8, 2013. "Float On's fans are mainly of the new breed: techies and stressed-out city dwellers seeking to get away from their devices while, perhaps, approaching the theta brainwave state usually only achievable after years of deep meditation practice."
"Isolation Tanks Float the Stress Away", The Forum, Claremont McKenna College, Oct 9, 2013. "The design on the snail's shell was the entire universe. Every star, galaxy and constellation that existed was present on this enormous shell. I floated on my back – for what felt like an eternity – looking up at the spectacle."
"Drifting Inside a Sensory Deprivation Tank", Seven Days, Burlington VT, Oct 2, 2013.  "After depriving my senses of external stimuli for one hour, I was now acutely attuned to them: the wind rustling in the leaves, the smell of freshly mown grass, the dusky glow of sunlight illuminating the clouds."
"Nothing Is Illuminated", Charlotte Observer, Oct 1, 2013.  "I rinsed off in the shower, and emerged more physically relaxed than I can ever recall. All trace of chronic tension in my neck, shoulders, and upper back was gone. Yet I felt alert, refreshed, and energized. My mind was sharp and clear, full of ideas."
"Flotation Tanks in Atlanta", Atlanta Magazine, Aug 20, 2013. "I emerged in an extremely pleasant daze that did have a sort of opiate-induced quality to it. For the rest of the day, which would have otherwise been stressful, I was utterly unflappable."
"The power of shutting down your senses: How to boost your creativity and have a clear mind", Belle Beth Cooper, Buffer, Jul 10, 2013.  "Setting up some regular isolation time can help you get that coveted just-you-and-your-thoughts time that comes from spending an hour locked in a floatation tank." (Note: float tanks do not have locks.)
"Float tank therapy induces pain management and reduces anxiety," The Examiner, Jul 6, 2013. "Customers say they look forward to the float time because it is the only stillness and down time they get away from the pounding pavement and the drone of technology."
"Something in the water", Carleton Football Club, May 29, 2013.  Pro sports team (Australian Rules Football) installs a float tank to help athlete recovery. "The quicker we get the players to relax, the quicker their bodies to return back to their base-line state, which is technically better for their recovery. It also does wonders to help with sleep."
Sensory Deprivation Tanks Making a Comeback.  Vancouver Metro, May 10, 2013.  "If you practice yoga, it correlates very well with a savasana at the end of class, where you're just lying there in corpse pose. Basically, this is like a savasana on steroids."
"Floating: for creativity, relaxation and pain relief", Saskatoon Star-Phoenix, Apr 10, 2013. "Once inside, it reminded me of safe places, like baths as a little kid, or hide-and-seek, as though I'd found the perfect hiding spot."
"Floatation Therapy" from Adelaide TV show "todaytonight", 4:49. "Layer upon layer of tension just drops away."
Float Centers Gaining Steam (in the SF Bay area).  Wall Street Journal, Feb 27, 2013. "I was incredibly calm and collected, which quite frankly is not normal for me."
"Mental health: Can flotation tanks cure what ails you?", Albany Times-Union, Feb 25, 2013. "For me, it's not an out-of-body experience, but a body-out-of-the-way experience. The time just disappears and thoughts disappear. It's like having a lens. I'm much more in the unconscious or intuitive state of mind and I'm working out images or issues that I'm having."
"Ladies and gentlemen, we are floating in space", Nick Mattos, PQ Monthly (Portland, OR), Feb 20, 2013.  "The journey you take and the revelations you have in the tank, the relaxation you find in there, aren't some amazing miracle that the tanks do — it's just how our bodies are meant to function, which the day-to-day world doesn't allow us to do.  It's perfectly natural."
"Float On Sensory – A Secret Weapon of Fighters", MMArecap, Jan 9, 2013. "I remember Pat saying his first fight after he started floating just the jitters weren't there in a way that they always were. He felt real calm and confident."
"Bill Jensen: Flotation tanks ease stress", SF Gate, Oct 16, 2012. "Time seems to stand still as I escape worldly realities, however briefly, and before I know it, the sound of the tapping on the chamber awakens my awareness that the session has come to an end."
Inside New York's Last Sensory Deprivation Tank, The Awl, Oct 18, 2012. "Floating is kind of like backing into a dark room where the light from under the door gets further and further away and then your foot hits a box of crap you'd forgotten you'd left there."
"Floating: It's For Real, It's Good For You, And It's Not Just For Hippies", Breaking Muscle, Jul 24, 2012.  "Plus when you get out your skin will be all exfoliated and soft. Actually, your whole being will feel exfoliated and soft. So much so that you might feel a bit disoriented and woozy for a while, but you'll also feel really happy and at ease and you won't much care."
"Strikeforce's Pat Healy credits sensory-deprivation tank for weekend win", MMAjunkie, Jul 16, 2012. "It's hard to explain, but man, you really come out of there feeling relaxed … You can really focus your mind in there."
"Screw Yoga, ISO Tanks Are All the Rage Again," SFist, May 30, 2012.  "ISO tanks were invented in the 50s and have come in and out of fashion, getting co-opted by the new-agey folks of the 70s and 80s, and also serving as the venue for Altered States, a 1980 film about the psychedelic experiments conducted using the tanks by their inventor."
"Float On: Interest in floating is surging locally, but are the benefits all they're cracked up to be?" Oakland North, May 30, 2012. "Floating in sensory-deprivation tanks is unlike other forms of relaxation or meditation because floaters don't need to worry about posture or external sensations."
"Float-Tank Therapy: Experiencing Sensory Deprivation", Utne Reader, May/June 2012. "But it's like this: When people ask me about floating, after describing the benefits I've experienced, I tell them, 'At the very least, it's like a blow job for your body.' And as Forrest Gump said, that's all I have to say about that."
"Everything You Ever Wanted to Know About Sensory Deprivation Tanks", io9, Oct 12, 2011.  History and development of float tanks, the theories of John C. Lilly, Fringe's Walter Bishop, psychedelia, and hallucinations.
"Floating in Inner Space," Arthur Mag, Dec 7, 2010.  "Most of the known  techniques of altering and focusing human consciousness/awareness are thousands of years old. It is exceedingly rare that a new tool is discovered. And when one is, it takes a while for people to figure out how to use it."
"Float On," Boston Globe, Aug 4, 2007.  "Something about it is just captivating," said Steve Brown, a WBUR-FM radio host who started floating in 2001. "The fact that you can just unplug from everything and can be able to just shut everything off and be in total silence and total darkness."
"Hopping In, Tuning Out and Turning Off", New York Times, Feb 8, 1989.  "Flotation tanks, once associated with sensory-deprivation experiments in the 1950's and a decade later, with psychedelic self-realization schemes, have become increasingly popular tools to combat pain and reduce stress."
"To Relieve Pressures, Try an Isolation Tank", New York Times, Sep 10, 1981.  A blast from the past, the first wave of float tanks.  "I think that in our culture we need a socially acceptable place where we don't have to answer the telephone or questions from our children or argue anything with anybody," said Dr. John Lilly.
Experiences
The Floatcast. Podcasting about floating by Tom Wunk of the Long Island Float Place.
Tina Graham talks about managing her fibromyalgia, 14:50. "After that first float I had complete pain relief for about 17 hours."
Lukas Larson, How the Isolation Chamber Works and How It Affects the Brain, 12:28.  A heavily pierced dude describes his experiences with float tanks and compares it to psychedelic drugs.  "You're not putting any chemicals in your body, and, if you aren't enjoying your experience, you just get out and it's over."
Joe Rogan, Flotation Tank, 5:08.  Comic and MMA host Joe Rogan tells a story about his flotation tank.  "It's the most bizarre physical experience I ever had in my life."
Joe Rogan Talks About The Isolation Tank, 10:00.  Comic and MMA host Joe Rogan talks with guests on his podcast about floating.  "It's a very powerful form of looking at yourself, of introspecting."
Frank, "The Mystery of the Floatation Tank".  "To my amazement, the floatation tank took me from a 9 on the pain scale to a 0 in less than an hour. I was able to avoid back surgery thanks to the floatation tank."
Matthew Ciniello, The Truth about Sensory Deprivation Chambers, 5:18.  "All you can hear is your heartbeat and your breathing, and it really focuses the mind. … I felt very connected to the world."
Peter Gabriel, Rockline Interview, 1993. "[My isolation tank] was quite useful, in the sense that you could get into a dream state, and I think that did allow…different thoughts and pictures to come through. And I tend to write a lot of times from, from pictures, and it is an area I'm very interested in."
Heather Sunderland, "Floating My Worries Away". "The hardest thing to get used to was that you don't have to star float and stay still like in a swimming pool – I spent most of the time with my arms dangling in the water above my head, the water just holds you afloat as though you are made from wood."
"I Floated for an Hour in a Sensory Deprivation Tank and All I Got Was an Irrational Fear of Snakes", Ciena Madrid, The Slog, Sep 4, 2013. Her first float had high points ("lying still feels almost like flying, which is to say, euphoric") and low points ("they do not warn you about the paranoia").
Girls Travel Club, "Relieve your jetlag and float free!"  "I just wish I had known about this when I was pregnant and suffering from restless legs and insomnia!"
Russell Brand BBC 6 Pod Cast – isolation / sensory deprivation tank float experience, 7:19, Jun 8th, 2012.
Michael Finnance, Float Tank Documentary, 5:39.  Homemade intro to flotation, tanks and general discussion.  Interesting material, poor sound quality.
Vice Magazine's Sensory Deprivation documentary, 3 parts. A sensationalized view.  Content warning:  language, and a very annoying host. (Don't ask us about using any illegal substances in our tanks; we cannot allow it.)
Pop Culture
Warning: if you enter a float tank, you will certainly experience every one of these things shown below, probably simultaneously.  As is well known, TV is invariably accurate, scrupulous, and truthful in every respect.
The Simpsons, Make Room For Lisa, Episode S10E16, 20:32.  Lisa takes Homer to a float center; Homer's tank goes for a ride (starting from 13:20).
Kumail Tours Portlandia – Float On, Webisode.  Kumail visits the real Float On, encounters Ashkahn Jahromi's impressive mustache.
Fringe, Pilot, Episode S1E01, 2:08.  "This will rip open your consciousness." "I still think this is deeply irresponsible."  Walter just makes everything more complicated than it needs to be.
Fringe, "Amber 31422", Episode S3E05, 3:13.  "In the isolation tank, you will be freed from sensory distractions, and so the part of your brain that enables you to travel between universes should be more accessible.  And we will be helping the process along with psychotropic drugs."  Our tanks are not this awesome.
Ricky Gervais Show, Floatation Tank/Munchies, 9:07.  If you can still enjoy the basic things in life, then you can't go wrong.
Absolutely Fabulous, Iso Tank, Part 1, 10:00.  Edna and Patsy get a tank shipped from LA.
Altered States, the Tank, 0:55.  Floating is just like in Altered States, but you're not submerged in water, you don't eat ritualistic mushrooms, and only a small percentage of floaters turn into proto-human monkeys.
Johnny LaRue's Discount Deprive-O-Rama, 2:39.  And from SCTV, it's John Candy bringing the fun to sensory deprivation.