For the person who has everything, give them Nothing: gift certificates from Float are really the perfect gift! But if you'd like a little something to go along with your card, we got you. (By the way, members? You get 10% off all retail.) On sale now: 12oz jars of Colorado Hemp Honey and Onnit 30-count supplements. Among our smaller items, we have tea light holders, Conscious Ink manifestation temporary tattoos, and of course our delicious-smelling Lemongrass & Sage body wash, shampoo, and moisturizer. There's also Float swag with our "floating droplet" logo designed by Jennifer Mangini Perry.
Float Stuff: t-shirts and knit caps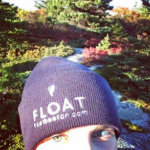 There's our soft and sturdy navy blue cotton/poly blend shirts with our logo. We also have a handful of our $5 Crowdfund t-shirts from 2014: a little piece of FLOAT history. Our Float knit hat is perfectly toasty for winter days.
We also have our upcoming Project Skullbaby t-shirts. Delivery is planned for February 2022, so please keep in mind you'll be gifting a pre-order. You can sign up here to be notified when we launch those pre-orders.
Conscious Ink Manifestation Temporary Tattoos
Have you ever taken a Sharpie and written a secret reminder to yourself on your wrist? Something like, hang in there, or you can do this, or even… breathe? If so, you'll immediately understand the appeal of these tattoos: they're reinforcement of your intentions, in a fun and artistic format. We have two-packs and Intention Packs, which are 8 tattoos around a particular theme. These are a perfect gift for someone who could use a little extra love and support. More info here. Look for our "Illuminate" white-tattoo intention pack, which look gorgeous on deeper skin tones.
Himalayan Salt Lamps and Tea Light Holders
If you've floated with us, you've seen the lamps in our float rooms and you know how appealing they are. They cast a warm glow that combines beautifully with rough-hewn natural edges. The tea light holders have that appeal on a smaller scale. NEW: Planet USB-powered salt lamps in a smooth round shape for $25.
Our bath and body products
Love our the smell of our body wash? You can take it home with you, along with the matching shampoo and moisturizer. You'll be bringing your post-float glow home too: smells associated with pleasant feelings and memories can bring those feelings (and good brain chemicals!) along with them.
Colorado Hemp Honey
This might be our all-time most popular product! Colorado Hemp Honey is a careful blend of pure and raw Rocky Mountain honey with full spectrum, cannabinoid rich hemp extract and organic essential oils. We love bees and beekeepers, so we're excited to support this product. Single-serve Chill Sticks are available in five flavors. 12oz jars are currently on sale! All regular flavors are $35 down from $50, and double strength is $59 down from $85.
Onnit Products
On clearance sale: 30-count bottles of Alpha Brain (was $34.95, now $24) and New Mood (now $19). Alpha Brain promotes focus and learning, while New Mood is all about stress relief and relaxation. We also carry single packets of Alpha Brain Instant.
Books
Michael Hutchison's classic Book of Floating is a great introduction to all of the ways people have used floating in their daily lives. Get High Now (Without Drugs) by James Nestor walked out of our library so many times, we decided to just start selling it. New this year is Lee and Glenn Perry's Floating in Quiet Darkness: how the float tank changed our lives and is changing the world. Working with float tank inventor and researcher Dr John Lilly, Glenn developed the first commercially available float tank, and Glenn and Lee ran the first float center, in Beverly Hills.