If you missed our original hiatus decision post, you can read it here. Tl;dr: Covid numbers were uncontrolled and we wanted our staff to stay at home. Previous updates can be found under the Covid-19 tag.
We will not be open on the 18th. At our last meeting, we looked at the local Covid numbers and two things gave us pause: 1) we're still hovering around that critical/high dividing line, and 2) we seem to be on a plateau there. We'd really like to be in the yellow region.
Also, we aren't happy about Governor Baker's decision to accelerate opening, in the face of objections from epidemiologists and information from the Centers for Disease Control. Vaccine appointments are a mess, as well. We are SO CLOSE though!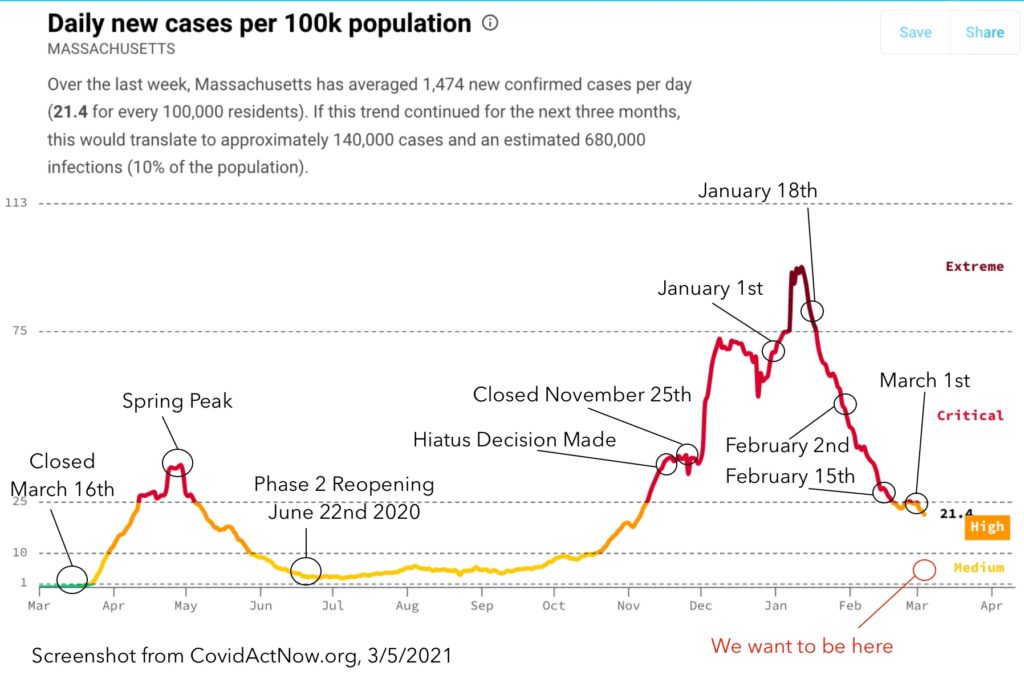 If you'd like to look at this graph, and others including transmission rates, positivity rates, hospitalizations, and vaccination rates, you can see the Massachusetts page on CovidActNow.org here.
In the interests of transparency and regular communication, our next meeting is March 15th to discuss reopening on April 1st. You can expect another update within a few days of that decision point.
In the meantime, if you haven't already, please consider following us on social media (we're on Instagram, Twitter, and Facebook), or signing up for our monthly newsletter.
Stay safe out there!
Sara